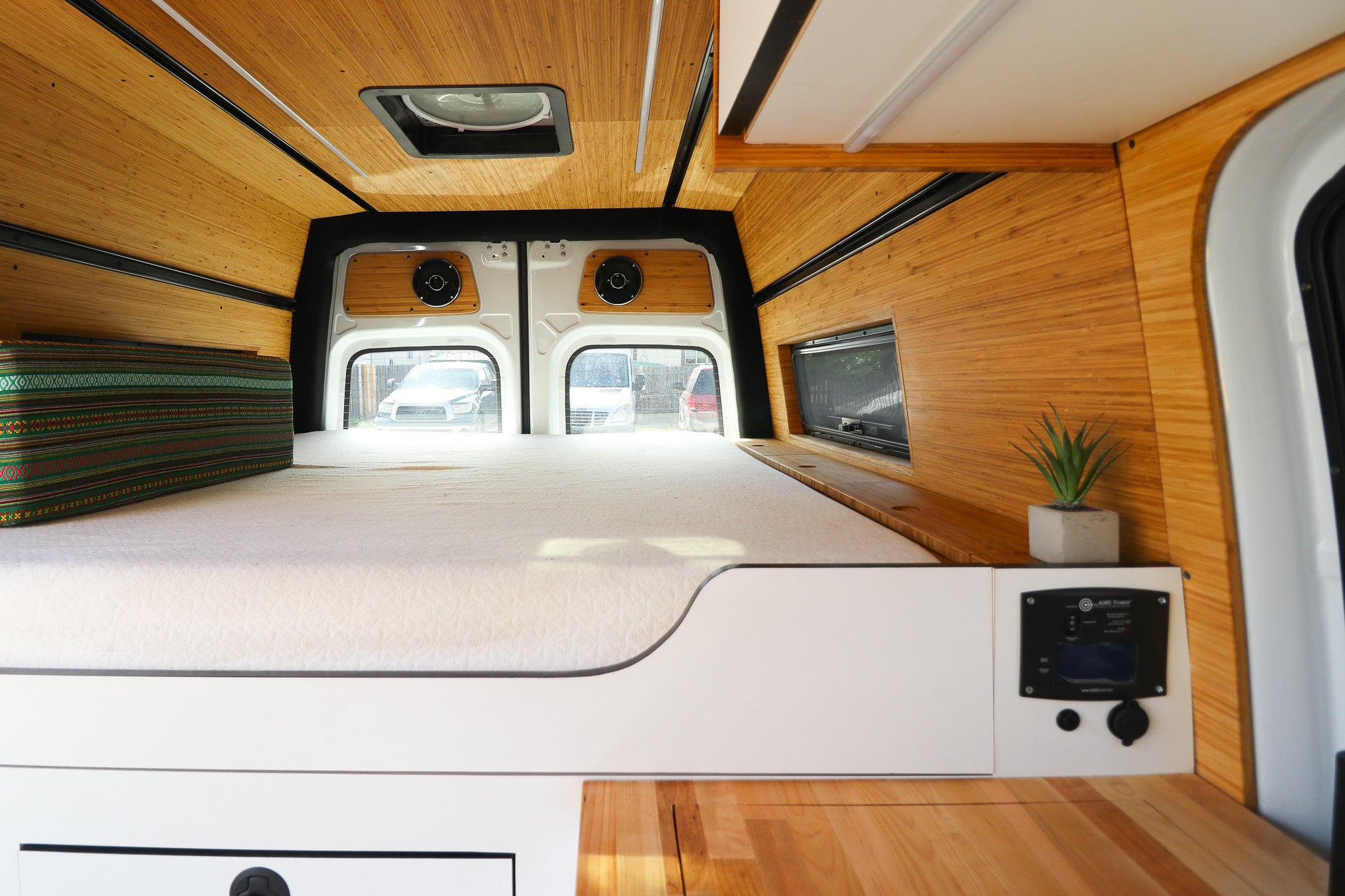 CONFIGURE YOUR CUSTOM VAN
A Van Conversion System That Just Works
SYSTEM BUILDS
We've done the work so you don't have to. Over the course of many, many van builds we have developed the Featherbuilt Interior System - a series of products and packages that work together seamlessly. With a variety of finishes to choose from, you can choose your aesthetic and stack as many of our products as you'd like to create a van as simple or as jam-packed as you need.
These builds can start around $40,000. Bring us your van and we'll take care of the rest.
Keep scrolling to learn more about what's possible in each package and how you can get started!
START WITH YOUR LAYOUT
Select from one of our tried-and-true packages, mix and match, or start from scratch!
MERCURY
Light and fast with a fixed bed, modest electrical system and ample storage.
Built on:
Sprinter 144
Transit 148
ProMaster 136
Great for:
Weekend warriors
Solo Vanlife
Short road trips
REQUEST BUILD SPEC
MARS
A classic campervan with extendable bed, extra seating and a deluxe electrical system.
Built on:
Sprinter 144
Transit 148
ProMaster 136
Great for:
Family camping trips
National Park tours
Tailgate Parties
REQUEST BUILD SPEC
JUPITER
Loads of storage, extra seating, upgraded finishes and deluxe electrical system.
Built on:
Sprinter 170 (and 170 Ext)
Transit 148 (and 148 Ext)
ProMaster 159 (and 159 Ext)
Great for:
Long-term living
Family road trips
Entertaining while travelling
REQUEST BUILD SPEC
INTERIOR SYSTEM
Our Featherbuilt Interior System is the backbone of our builds and is the foundation for all of our products. We utilize factory holes in your van for the highest level of strength and speed of install.
This system allows each and every build to be truly customizable, adaptable, and modular. All of the cabinetry, storage, bed platforms, etc. are installed onto these rails - making it super easy and quick to make adjustments or additions.
Walls panels, ceiling, insulation, and flooring comprise the "shell" of your van and a great place to start for any van build.
Interested in installing your own interior? Check out the ready-to-install products we have for sale.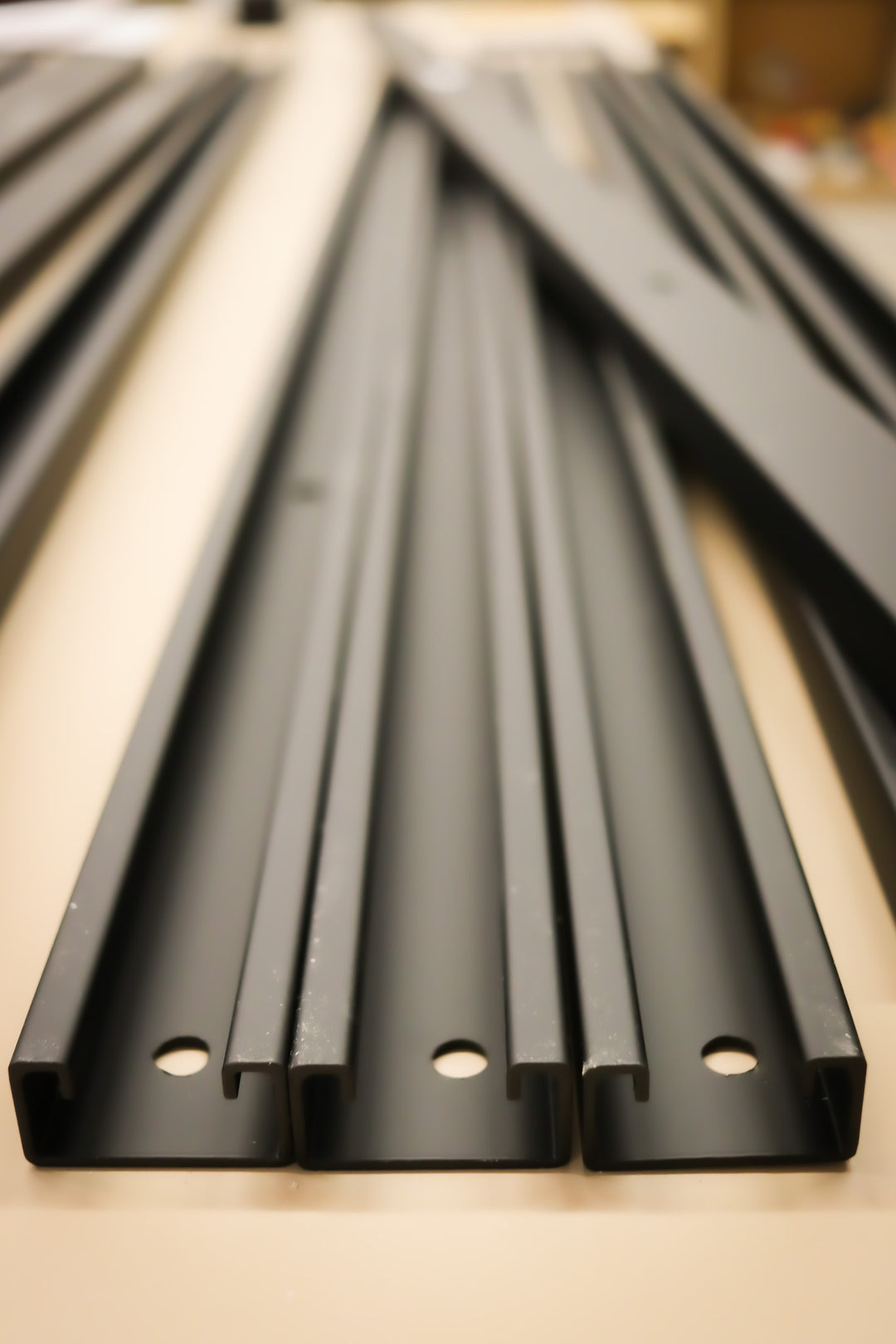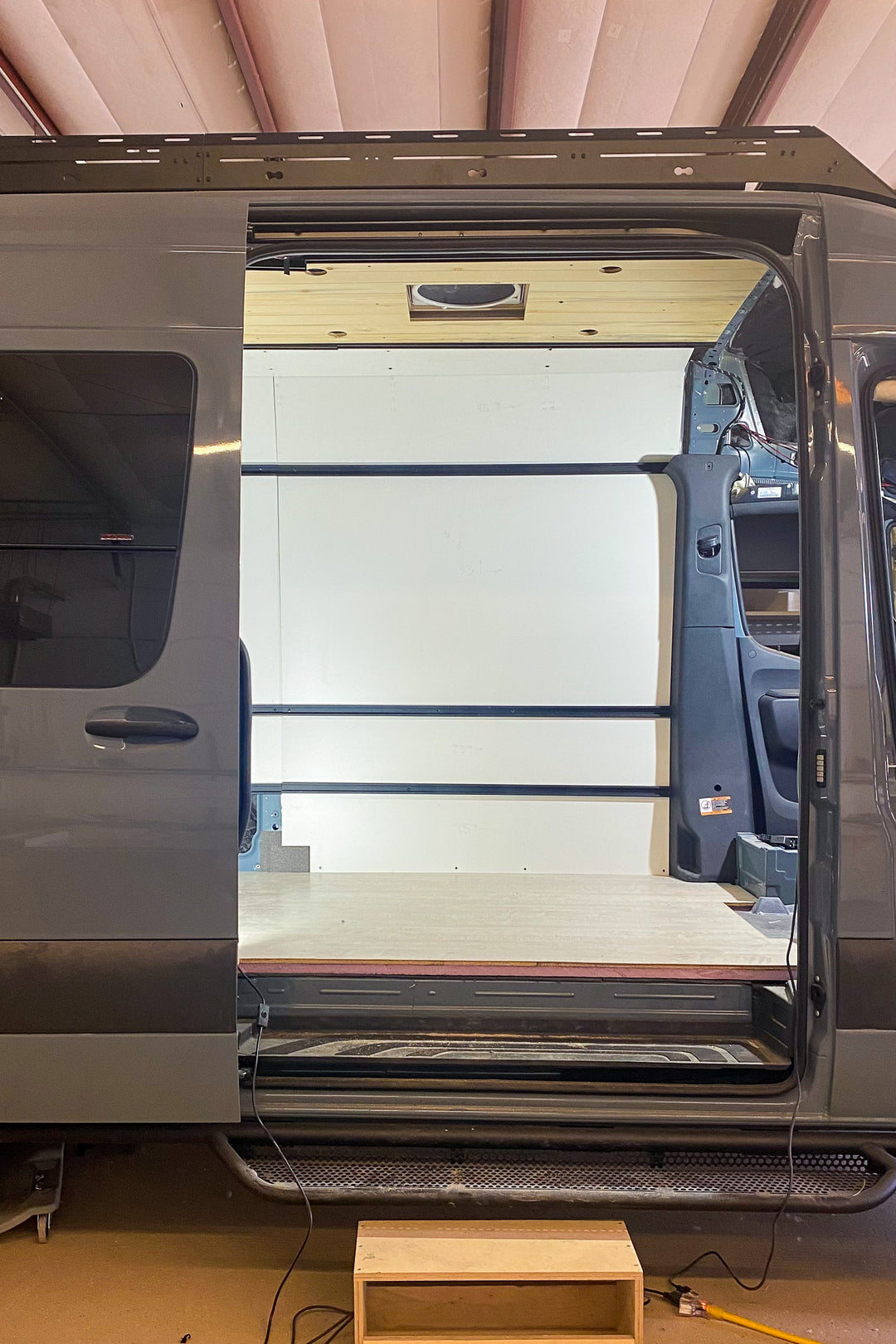 KITCHEN AND PLUMBING
They say the kitchen is the heart of a home - and yours is the heart of your van. Our kitchen modules allow you to create a functional and beautiful design that includes all the cooking and storage space you need.
Whether you opt for a galley kitchen or a split kitchen layout, our kitchens are perfectly designed to fit your space.
Appliances, water storage, and plumbing can be selected to match your needs.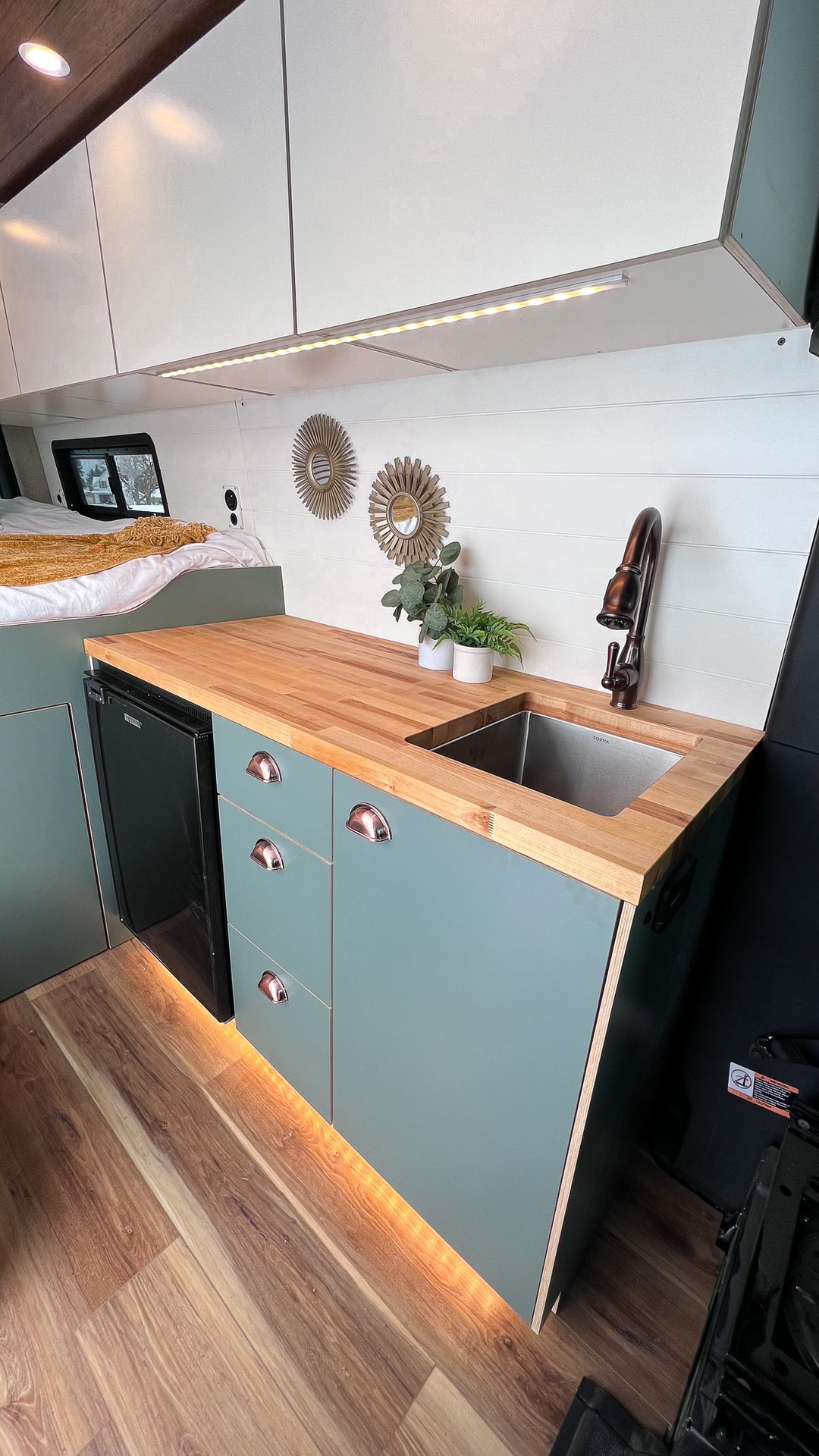 DRIVER SIDE GALLEY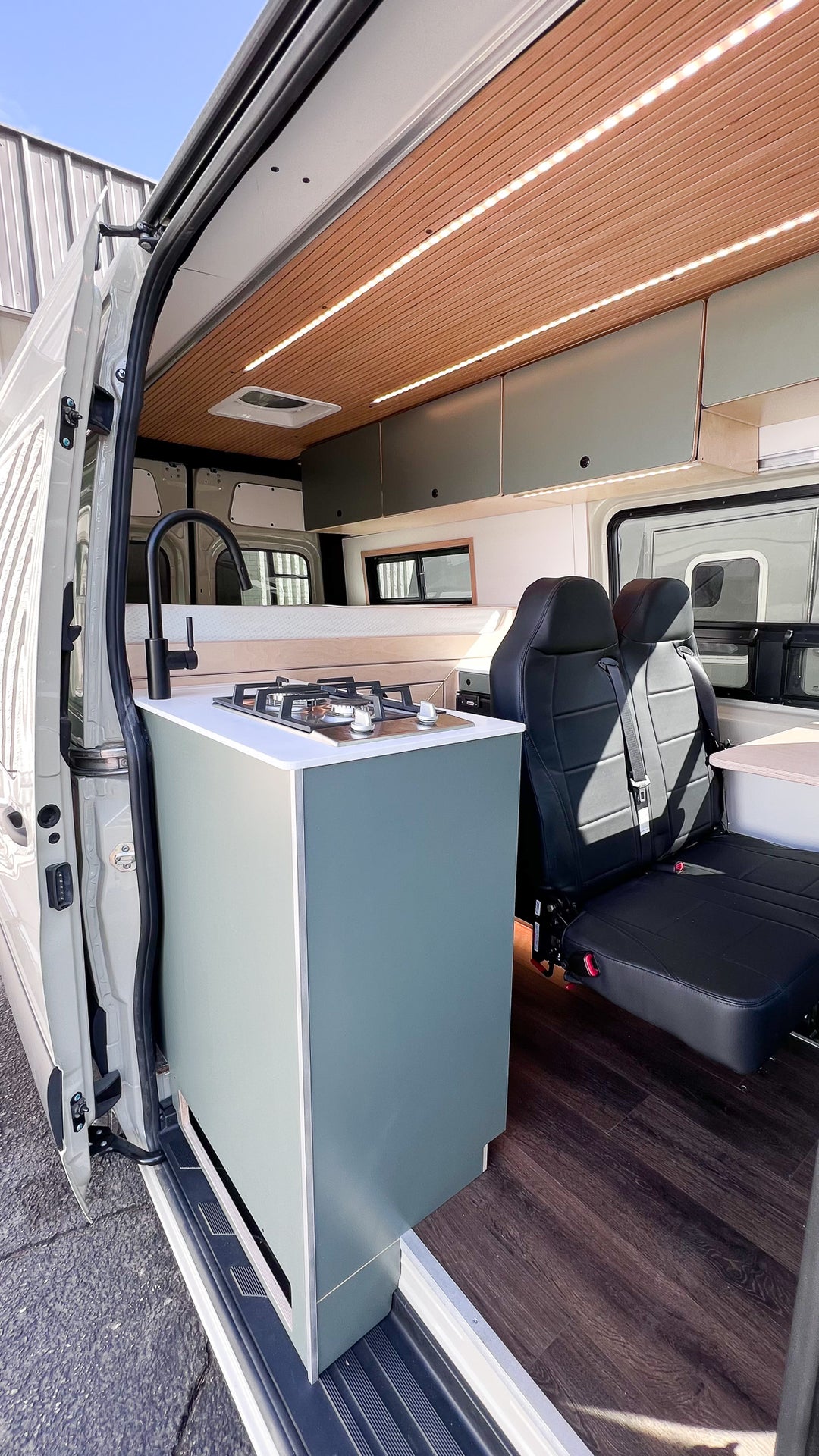 SPLIT KITCHEN
ELECTRICAL AND SOLAR
We've got an array of integrated 12V and 120v packages pre-sized based on a variety of electrical needs. You've got the option to add solar, alternator charging, and shore power, as well as a larger battery bank.
Not sure how much power you need? Reach out to us and we'll be happy to help.
SLEEP SYSTEM
Whether you're interested in a simple fixed bed platform or one of our unique extendable bed platforms, you can rest easy knowing that you will rest easy. Utilizing our one-of-a-kind brackets, you can adjust the height of your bed up to a 36" under-bed clearance. We also offer flares.
Check out two of our bed options below.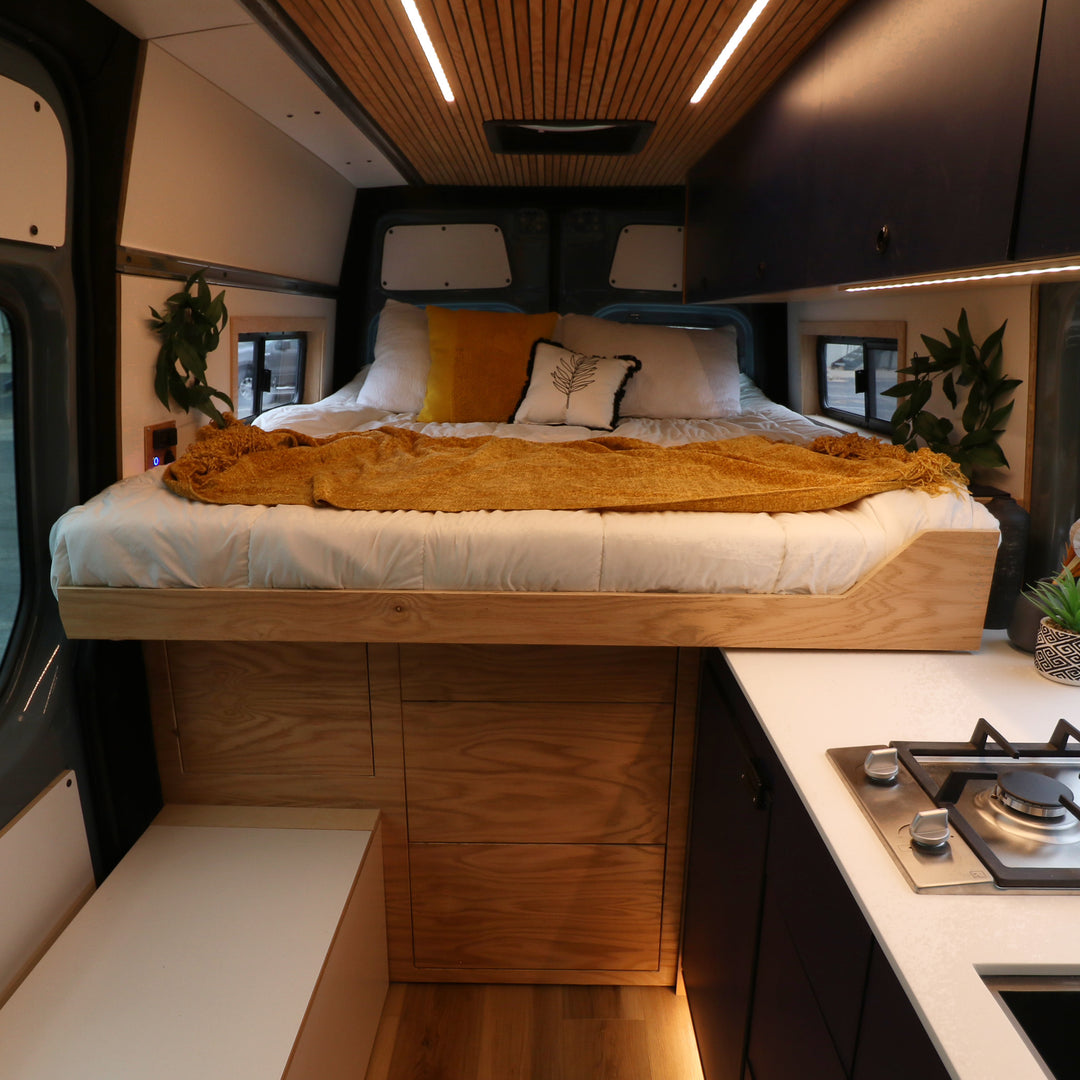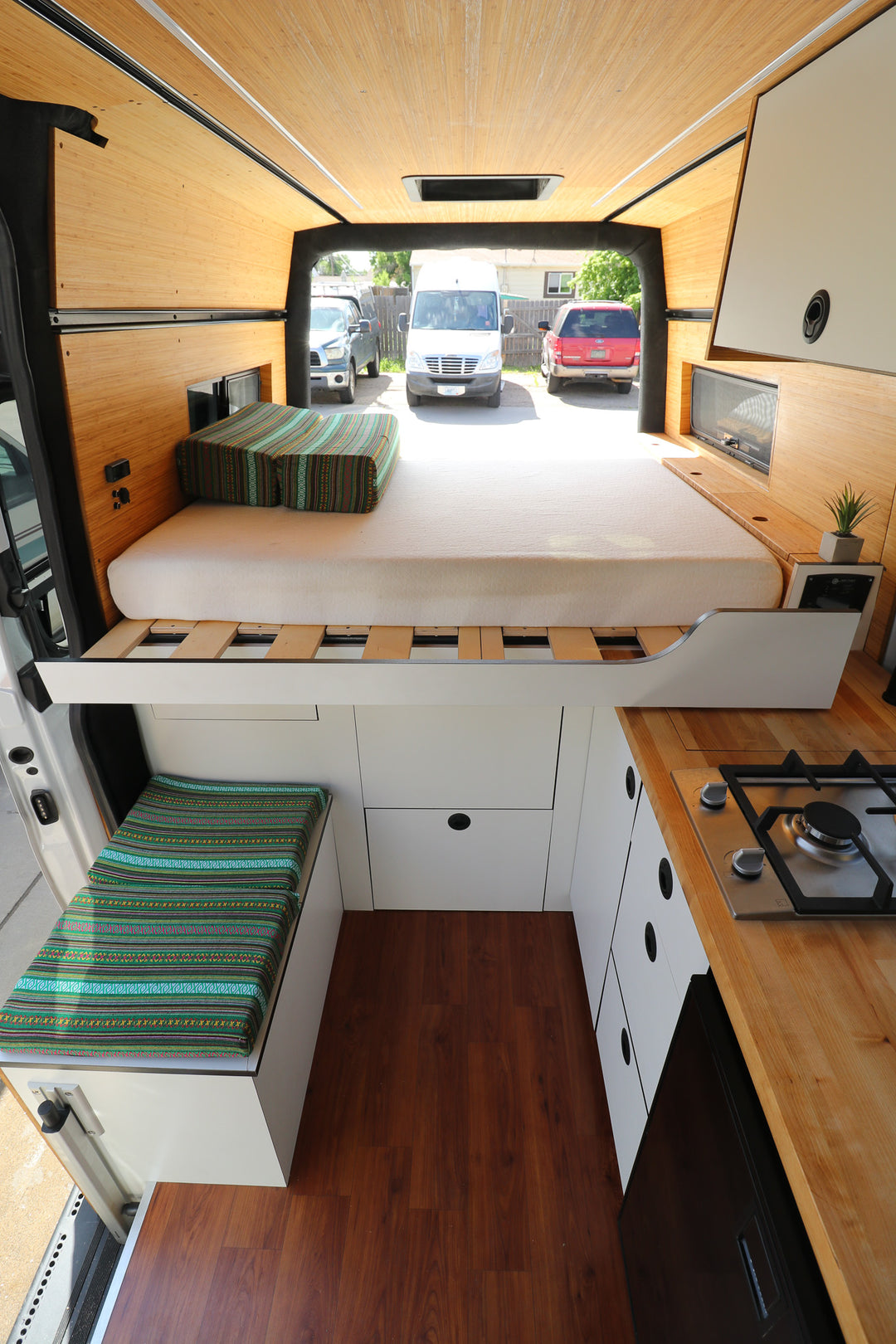 EXTENDABLE
Extends from 65" to 80" long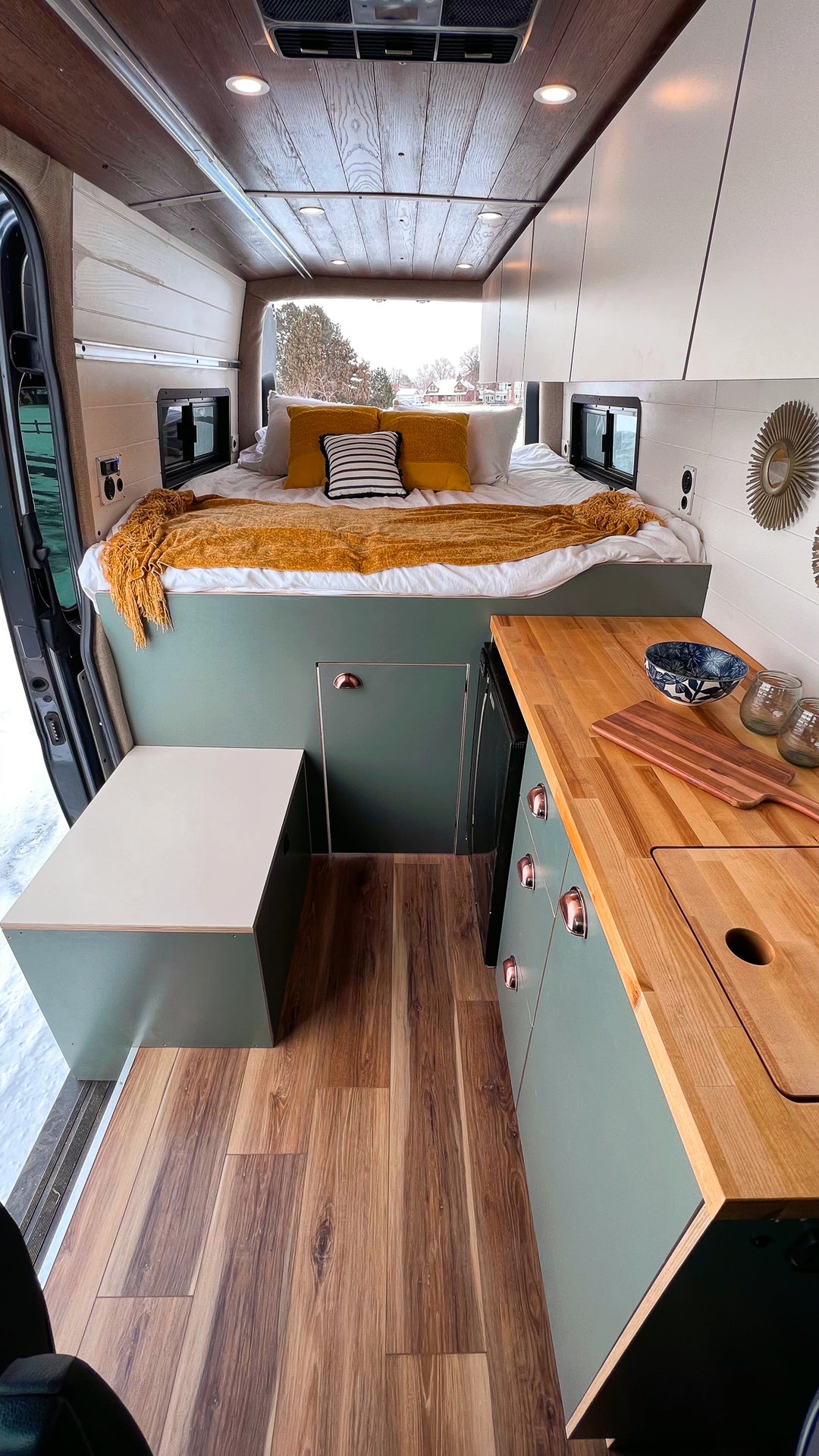 FIXED LENGTH
STORAGE
We believe your van should feel like a home, so no heavy doors or bulky cargo bags here. Featuring lift arms, locking latches, dimmable down lighting, and interior lighting, your upper cabinets will evoke joy in organizing all your gear. We also offer benches and garage cabinets to make sure everything has a place.
Check out some examples of our storage options in our previous builds. Many of our designs are compatible with other modular systems such as Adventure Wagon.
UPGRADES AND ACCESSORIES
Now that you've got the basics figured out, what else might you need to complete your adventure van? We have a large collection of Featherbuilt exclusive products as well as off-the-shelf products we love to use. These include headliner shelves, cargo drawers, seat swivels, Lagun tables, bedside cubbies, rear door showers, and more.
All our vans come with the option to include heaters, vent fans, and AC units. Whatever you may need, we've got your temperature control covered.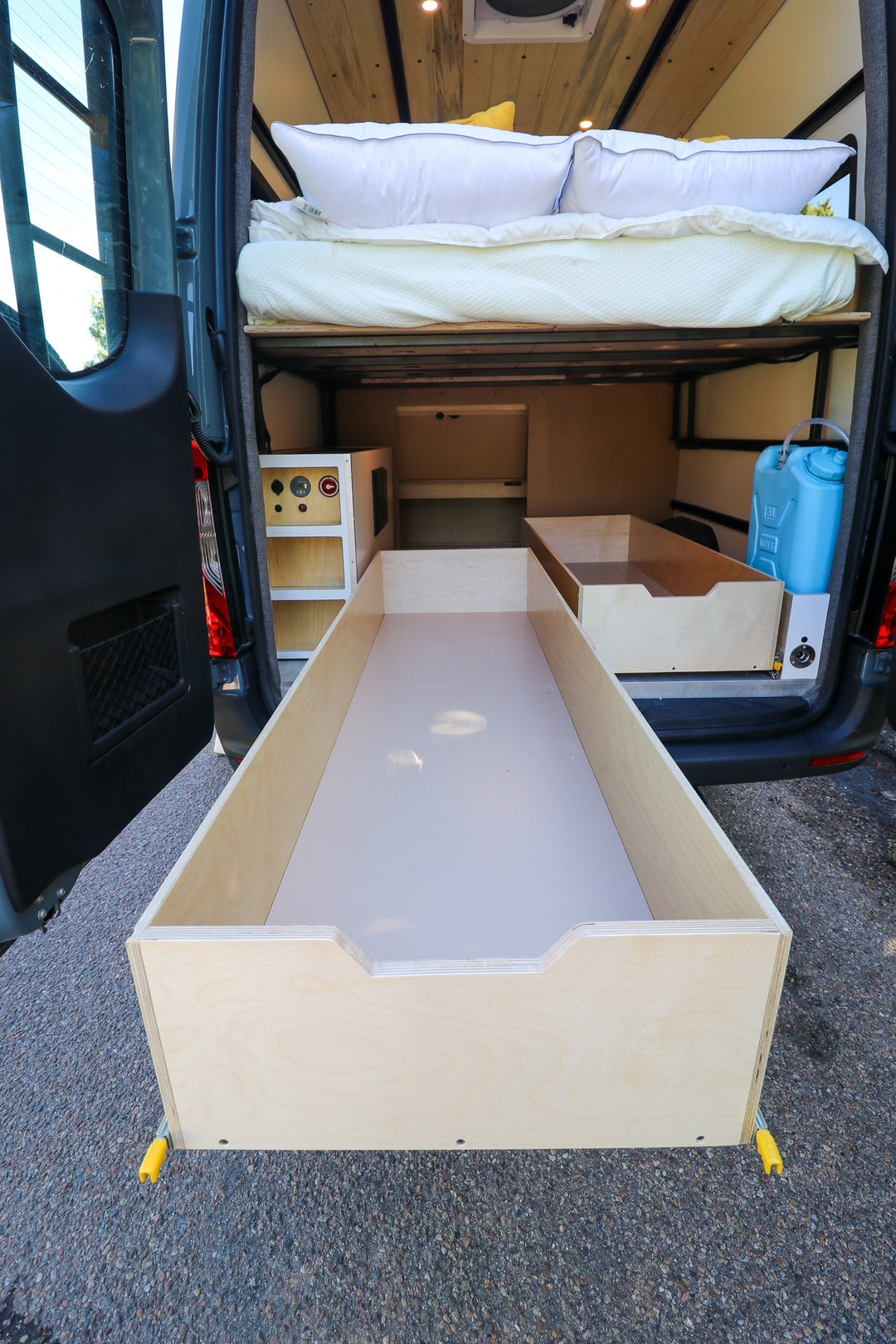 WINDOWS AND EXTERIOR
Don't forget about the outside of your rig! We can help make sure the outside of your van looks and functions just as good as the inside. We work with trusted manufacturers including Owl Vans, Arctic Tern, Moon Fab, Fiamma, Flatline Van Co, Dometic, and Aluminess - just to name a few.
We have partnerships with distributors from across the industry to source the components and upgrades you love.
PROFESSIONAL OR DIY INSTALLATION
START YOUR VAN BUILD TODAY!
Let's create a van you love to drive (and admire in your driveway).